An Instagram-worthy itinerary of the South Island.
Nothing gets the holiday vibes going like spending all day at the airport only to have your flight cancelled. The upside was, we spent our additional night at home re watching the Lord of the Rings to prepare us for our own adventure to Middle-earth. A day later than expected, we arrived at Queenstown airport, picked up the hire car and began our mission to destroy the ring in Mordor. Sorry, I mean, began our road trip around New Zealand.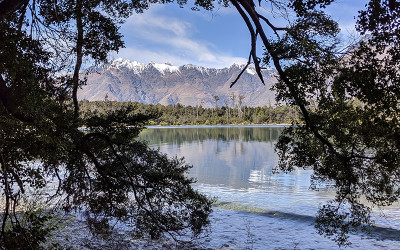 Our first stop was Bob Cove's track, the perfect place to stretch our legs and take in the view of Lake Wakatipu. Next up, was the Instagram-famous Glenorchy wharf, followed by an afternoon exploring the start of the Routeburn track before heading back to Queenstown in time to watch the sunset.
Day two began with an early drive south towards Te Anau. After lunch by the lake, we took off on our glow worm cave tour. I'll be honest, I didn't really know what to expect, but this was a highlight of the trip. If you can imagine being rowed across an underground lake lit by what looks like the Milky Way, but is actually thousands of glow worms – you start to get the picture. I can't actually show you a picture as no photography is allowed in the caves. But it also wouldn't do justice to this magical and surreal experience. If you are planning a trip to NZ, be sure to add a glow worm adventure to your itinerary.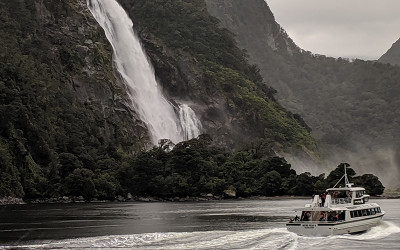 After a rainy night in the Fiordland National Park we weren't sure if we were going to make it to our Milford Sound cruise as the road was closed due to a high avalanche risk. We took a chance and headed further into the park only to wait for three hours on the side of a mountain (spirits were high until the snacks ran out…) before the road opened again and we made it to our cruise with five minutes to spare.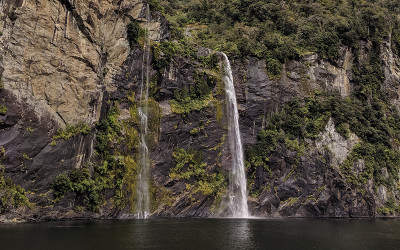 Thankfully, it didn't rain during the cruise and we were lucky enough to see seals and dolphins on our trip. Considering it rains 270 days of the year in Milford Sound, getting clear skies is almost a miracle. But it's such a spectacular part of the world and definitely worth the journey, even in the rain as the waterfalls go off!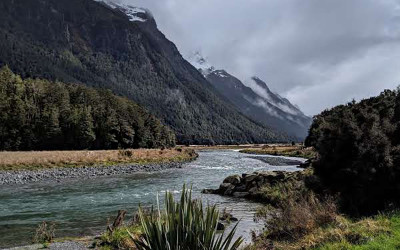 It was then time to head north to Wanaka. We drove via Arrowtown, where I had one of the best Instagram vs. reality moments of the trip. There is a historic cottage in Arrowtown that is all over Instagram. Turns out it is in a car park and while we were visiting a Winnebago was parked directly in front. Not quite the aesthetic I was after!
We then took the scenic route (though every road in New Zealand is the scenic route) over the Crown Range road and had lunch at the historic Cardona Pub (10 out of 10 would recommend). We arrived in Wanaka and spent a cosy afternoon playing scrabble in our hostel while it poured down with rain outside. You've really got to just roll with the weather in New Zealand…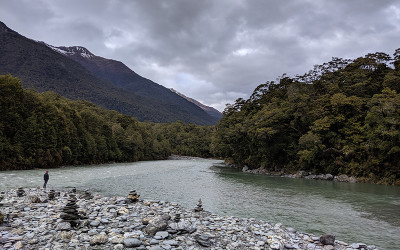 After taking roughly 1054 photos of the Wanaka Tree, we headed out to the Blue Pools track. As we pulled up at the car park, the clouds parted and we enjoyed two hours of perfect weather. If you're after an easy walk with awesome views – add this one to your list! We spent that night on the shores of Lake Hawae.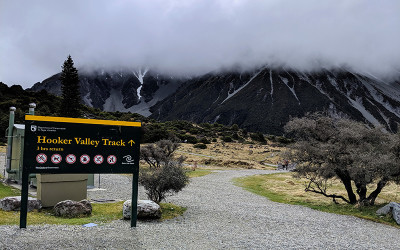 For the last few nights of our trip, we were based at Mt Cook. I'd been looking forward to the drive along Lake Pukaki all trip, and while the colour of the lake was incredible, the clouds were so low we couldn't see any mountains. Even in Mt Cook village, there was no sign of Mt Cook. But that didn't stop us exploring. We took a very rainy walk up to the Tasman Lake lookout that really put my 'water resistant' raincoat to the test. But the next morning we got up early and headed out along the Hooker Valley track.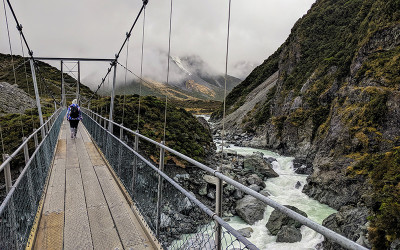 Again, we had no rain on the walk and we had the whole track pretty much to ourselves which was a small miracle; however, we didn't get a glimpse of Mt Cook as the clouds were still so low. This is another awesome and easy walk to do in New Zealand, and still beautiful on a cloudy day. Seeing the icebergs on Hooker Lake at the end of the walk was pretty impressive. We also saw a small avalanche on our way back, thankfully, a long way off in the distance.
On our final morning, Mt Cook partially revealed itself from the clouds before we headed off to have lunch at Lake Tekapo. We drove up to the Observatory for a pretty epic view. Then it was straight to Christchurch and time to fly home. All up, we packed a lot into a week on the South Island, though there is still so much more to do and I'd go back again in a heartbeat. If you've been thinking about an NZ adventure, make it happen. It's just a three hour flight away!