Give the gift of choice with a RedBalloon gift voucher, the perfect present for anyone and any occasion. Starting from $25, gift vouchers can be made to any denomination and the recipient can use it to purchase any of the 1000+ experiences on offer plus the range of gifts and hampers available. You can also purchase several gift vouchers online at a time if you're looking for multiple gifts for family, friends or for corporate gifting. RedBalloon gift cards are also available in a range of retail stores including The Warehouse, Paper Plus, Warehouse Stationery and Giftstation online. These can be redeemed online through our website and are the perfect present if you're stuck for ideas whilst shopping.
---
Corporate Gift Vouchers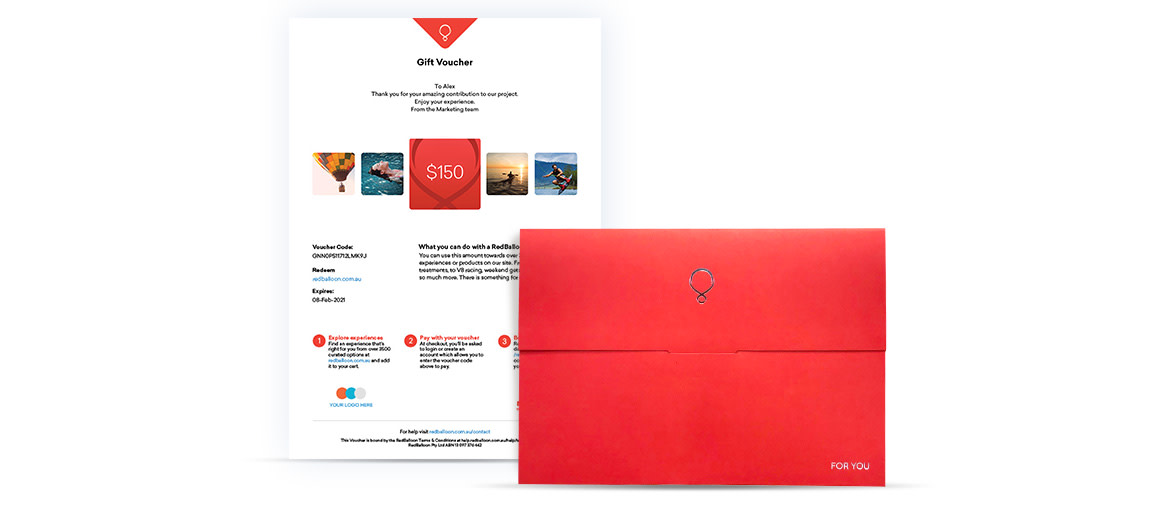 RedBalloon vouchers are a great recognition and reward tool. We offer a range of options for our corporate clients, including customisation with your own corporate branding and custom amounts.
Get in Touch
---
FAQs
How to use a gift voucher?
Gift vouchers can be redeemed online through RedBalloon's website or over the phone with our customer service team. If you've received one of our eVouchers or gift vouchers, you can redeem it by simply entering the unique voucher code on our use a voucher page. If you have a gift card the steps involved to use it are slightly different. Choose the experience or product you wish to purchase and add it to your cart. At checkout either log in or continue as a guest and enter your gift card number and pin. Once the payment is confirmed, you will then receive an email confirming your booking details. Follow the instructions in the email to request your preferred booking dates for your experience.
Which gift vouchers make the best gifts?
When it comes to choosing the best gift cards, you can't go past RedBalloon. Whatever the occasion - Christmas, birthdays, anniversaries or corporate gifting, a RedBalloon voucher lets them decide from our massive range of experiences, gifts and hampers. From flying, driving, dining out, getaways and more, you'll be the best gift-giver by letting them choose their experience. What makes our online gift cards even more special is that you can customise your voucher with a personalised message for the recipient. It's never been easier or quicker to find the perfect present for the hard to buy for people in your life thanks to RedBalloon's gift vouchers and cards.
If you're looking for corporate gift voucher ideas, RedBalloon has you covered. When choosing corporate gifts for employees or clients, a corporate voucher is the best way to represent your brand by incorporating the company logo and a personalised message. Whether it's for rewarding employees, client gifting, Christmas gifts, staff birthdays or anniversaries, or more, a gift voucher from RedBalloon is the best way to recognise the occasion. For businesses, we offer co-branded RedBalloon gift vouchers where the company logo can be added to the voucher, ensuring the perfect level of brand awareness whilst letting the recipient know how much you value their contribution to the company. For more information visit our corporate page or contact the team on 0800 555 023.
What can I buy with my gift voucher?
When you receive gift vouchers from RedBalloon you are spoilt for choice. From scenic flights and V8 racing, to winery tours and group cooking classes, there are endless unforgettable experiences on offer perfect for everyone. Better yet, if you've been looking for restaurant gift cards, RedBalloon has a wide selection of dining out and restaurant experiences that you can enjoy using your gift voucher. Once you have the experience in mind that you want to use your voucher on, we even offer instant book for a number of our activities. This means that you can use your voucher to buy the experience and book in the date you want to do it right there and then so you can enjoy it as soon as you want.
We also offer a selection of gifts and hampers. If you're looking for more ideas on what to use your gift voucher on, our decadent range of gourmet hampers are perfect for the ultimate foodie and are sure to go down a treat. There is no shortage of experiences and gifts available on RedBalloon that are sure to impress every personality type and are perfect to use your gift vouchers or gift cards on.